Tom and Jamie present The Chronicles of Podcast. Its a wild ride of story telling, a roller coaster of emotion and a whirlwind of laughter. We sit down with each and every guest and "Chronicle" their lives! We like to make our guests feel at home (even though they are) and feel as if they're sat around a table, chatting to their friends. Allow us into your ears as we take you on a proper adventure into what they wanted to be and wanted to do before they grew up into who they are today. Of course, Callum is also on board to Treach you the things about life that you would have never ever thought of! Tom takes you through his journal and gives you an insight of the world through his eyes Finally, Jamie asks you to participate in the most crazy and insane challenges know to human kind! They're a matter of life and death! The Chronicles Of Podcast - tell your friends about us, share us, review us, rate us, allow us into your ears, follow us, subscribe to us, throw us, build Lego with us, only feed us after 10:30pm and most importantly make us your weekly listen! Thank you for making it all the way to the bottom you absolute hero! Now please swipe right.
Episodes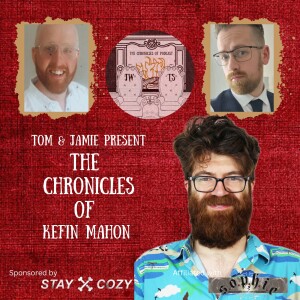 Friday Jan 20, 2023
Friday Jan 20, 2023
Kefin Mahon is a podcaster who achieved the dream of making podcasting his full time career. Known for hosting wrestling podcasts The Attitude Era Podcast and How2Wrestling as well as movie podcast Cinema Swirl with former guest Sam Chaplin.
Welcome to the seventy-first edition of The Chronicles of Podcast, these are The Chronicles of Kefin Mahon We are joined by Kefin Mahon a wonderful podcaster who hosts The Attitude Era Podcast with his friends Adam Bibilo and Billy Keable where they cover ppv's and storylines from The Attitude Era of the WWE and beyond. He also hosts How2Wrestling with his wife Jo Graham as he teaches her all about the world of wrestling and how to get into the world of wrestling and if that wasn't enough he also hosts Cinema Swirl with former guest of the show Sam Chaplin
We talked to Kefin all about how he got into the world of wrestling, his history in stand up and what made him dip his toe into that world, how he met his Attitude Era co hosts, as well as the origin stories to his shows. All this and more including how he managed to turn podcasting into a full time career. 
All this and more inside this edition of 'The Chronicles of Podcast' including Callum's Treachings, Tom's Journal & Jamie's Audience Participation challenge.
If you like what you hear here then please don't hesitate to like and share this show with your friends and please make sure to follow us on all social medias and maybe even a little rating and review on your favourite podcasting apps.
Official Website - The Chronicles of Podcast
Official Sponsor - Stay Cozy Clothing
Affiliate Charity - Sophie Lancaster Foundation